Over the past few months, the team at ACN has been crossing the state surveying the innovation ecosystem. As we've looked at the many environmental variables at play in building a healthy startup ecosystem, one area I've been particularly curious about is office space. How is Covid impacting the commercial real estate market, and what effects will remote work have on our startups? To find out more, I sat down with Philip Currie, President at J.H. Berry & Gilbert, to get his take on recent developments. Below are excerpts from our recent conversation at Big Bad Breakfast in Homewood (be sure to try their spicy bacon!):
Josh: Philip – It's been a crazy year since we last chatted about the real estate market. We've got a lot of ground to cover, so let's start at a high level.  What have you been seeing since Covid, and where is all this headed?
Philip: Yes it has! Around this time last year, companies nationwide were getting adjusted to their employees working remotely. During the late spring and summer of 2020, many of Birmingham's employees who were fortunate enough to retain their jobs found that working from home gave them a refreshing dose of family time and flexibility. Although most people were able to make do, working from home also came with its own drawbacks and difficulties. Cut to spring 2021, and vaccine roll outs and decreased number of cases and hospitalizations seemed to indicate a return to the office. The CDC lifted mask requirements for vaccinated individuals and companies started following suit by returning to the workplace. However, the recent emergence of the Delta variant has companies and employees questioning what the long-term solution will be.
If we've learned anything in the past year and a half, it's that the virus and its effects are unpredictable. From the highs and lows of cases, hospitalizations, and deaths to mask mandates, changing local guidelines, and new vaccine rollouts, to the emergence of new variants, our world is constantly revolving around the virus. Time has also given us more knowledge on how the virus spreads, who is at risk, etc. While there's still uncertainty and concern, I think it's safe to say the panic of 2020 has subsided. This is the case nationwide, but cities like Birmingham in particular are well positioned for a quicker and stronger return to the office.
Josh: What makes a Birmingham or Montgomery different than other cities?
Philip: Well, one difference is our economy's heavy make-up of local and regional businesses. Locally owned businesses have much more autonomy and much less "red-tape" than their national counterparts. Their decisions are made quicker and with fewer people involved, and employees and companies are making decisions on what's best for them. Most local and regional companies have been back in the office for some time, while large national companies are still navigating what that looks like.
Josh: What about traffic and commute times, I imagine that's a factor as well?
Philip: That's absolutely a factor – in the largest cities, 30% of office employees use some form of public transportation. Commute times less than an hour to work are generally considered acceptable. According to a survey done by a national CRE firm last Summer,
Commute time and public transportation was the number one barrier for people to re-enter the office; more so than actually contracting the virus.
Birmingham has relatively modest traffic and very little reliance on public transportation which positions us well for a quicker return to the office.  Ultimately, most companies will return to the office at least in some capacity. Employers will offer more flexibility mostly from an employee morale and recruiting standpoint.
Josh: That's interesting. So our shorter commute times are likely to drive earlier returns to the office than you'd see elsewhere. How is that impacting leasing terms?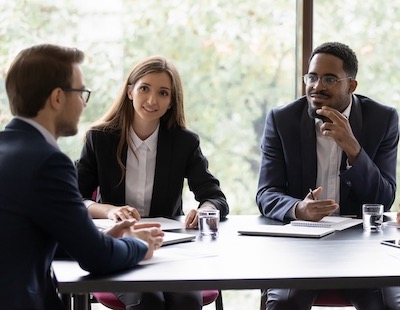 Philip: The current volatility has many companies with near term expirations opting for short term renewals to have some much-needed flexibility. Looking for shorter lease terms is nothing new for startup companies, as term flexibility is generally a key component when looking for office space.  However, the rise of construction costs has made this difficult due to the need for longer lease terms to make up for high tenant improvement costs. Companies are having to get creative with modernizing what would be traditional office space through furniture or other design features. Vacancy rates might help mitigate some of this, as landlords are more accommodating now when it comes to lease term.
Josh: You mentioned vacancies. I know there's been a lot of talk about the BBVA acquisition and how that plays into things in the local market. What are you seeing on that end?
Philip: Currently, at the year and a half mark into Covid, the limited data would show a single digit increase in vacancy compared to 2019. All indicators are that by Q1 of 2022, this will hold true.  We are seeing landlords more willing to enter into shorter terms leases with higher TI (Tenant Improvement) costs than in previous years. They are betting on groups growing within their buildings, or being left with nice, leasable space after they vacate. Developers are also focusing more on the needs and desires of startup and tech companies, with new developments in Birmingham boasting design features ideal for these types of companies. We'll continue to closely monitor how vacancy rates and construction prices are affecting lease terms, and how COVID protocols are driving company decisions.
Josh: Philip, thank you so much for walking through all of this. I'll certainly be touching base in the months to come for an update, as I'm sure everything will have changed!